City employee nets award for community work
Chadha honoured for community work, advocacy
Jatinder Chadha is the latest recipient of the City Builder Award. Chadha was honoured before the last city council meeting by MayorJim Watson and Coun. Jan Harder for his "outstanding contributions to the community as a volunteer, fundraiser and advocate fornew Canadians."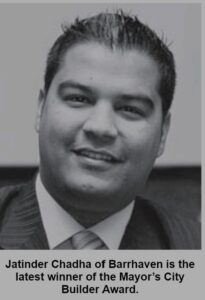 Since 2000, Chadha has organized many community events in the National Capital Region to galvanize the South Asian communityand assist members of the community to become familiar with Canadian culture, providing advice and guidance.
Chadha, a project manager with Transit Services at the City of Ottawa, is the founder, producer and host of the television programDesi Ottawa on Rogers Television. He has also spearheaded benevolent eff fforts, raising $10,000 in contributions for relief of the Haitian earthquake in addition to orga-nizing collection drives for the Ottawa Food Bank.

The Mayor's City Builder Award is a civic honour created to recognize an individual, group or organization that has, through out-standing volunteerism or exemplary action, demonstrated an extraordinary commitment to making our city a better place today andfor the future. This may include lifelong service, outstanding acts of kindness, inspiring charitable work, community building or otherexemplary achievements. Individuals, groups or organizations may be nominated by members of city council or the public. The award is presented at the begin-ning of each council meeting.